CALL NOW ! 800-985-6929
Email: charles@automatedpt.com
Click on the links below to see Drawings and Specs: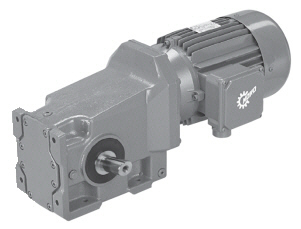 Features:
Energy efficient right angle solution
High quality and wear free helical and bevel gearing
Robust UNICASE cast iron housing
High quality helical gearing up to AGMA Class 13
High performance inverter/vector duty motors and brakemotors
Modular design for optimal application solutions
Protective features for severe duty and washdown environments
Oil-safe QUADRALIP seal system
AUTOVENT breather regulates internal pressure and keeps contaminants out
Stainless steel (316) protective paint coating – USDA/HI compliant
HELICAL-BEVEL 92-SERIES OVERVIEW NORD has developed a unique class of high performance right-angle speed reducers.
The 92-series helical-bevel drives are available as gearmotors and speed reducers with many mounting options. The 92-series bevel units provide high performance right-angle helical-bevel gear units at the cost effectiveness of a single worm system. 92-BEVEL ADVANTAGES COMPARED TO SINGLE WORM UNITS • High efficiency – 97% gear efficiency compared to 40-90% of worm units (depending on the ratio) • Long gear life – 92-gears are wear-free for infinite life – worms are designed to need replacement. • Many more ratios – over 21 ratios per case size vs. worm's 9 ratios up to 60:1. May reduce the need for additional components – belts, chains, guards… • UNICASE™ quiet leak-free design – worm reducers are notorious for leaking oil • Runs cooler due to the high efficiency – worm gear units generate high heat and run at excessive temperatures • NORD motor advantages – inverter/vector duty, many options: brakes, encoders, forced vent fans….
92-BEVEL ADVANTAGES COMPARED TO COMPETITOR HELICAL-BEVEL DESIGNS • The cost is up to 40% lower than traditional helical-bevel designs • There are Lower gear ratios available that produce higher output speeds CONCEPTS THAT HELPED ACHEIVE THIS INNOVATIVE PRODUCT Optimal computerized design – NORD has invested in the latest design and manufacturing tools to ensure maximum performance and price. Reduced parts counts – most helical-bevel reducers are 3-stage: input helical, middle bevel stage, final stage helical. NORD has developed a two-stage helical-bevel reducer: first stage helical and output stage bevel. This reduces the number of parts required to build a gear unit – 2 fewer gears, 2 fewer bearings, 1 less shaft, other minor parts. This allows NORD to achieve significant cost reduction while maintaining the ultra high quality of a helical-bevel design.
GEARBOX STANDARD FEATURES • UNICASE™ one piece heavy duty housing design • High quality gearing • Tough class 35 gray iron gear cases • High grade bearings • Heavy press fits on internal components • Low backlash gearing • Oil installed by the factory to maximize internal lubrication • Stainless Steel Paint for a tough durable coating and USDA incidental contact approval NORD's UNICASE™ design concept consists of a torsionally stiff housing in which all bearing seats are located in the onepiece casting. There are no splits or bolton carriers that weaken the housing or allow leakage. Shaft bores are machined in the same chucking ensuring excellent positioning of the gear tooth profiles, bearings and seals. As a result, the life of all components including the oil lubrication is enhanced. High quality gearing (up to AGMA Class 13) results in low operational noise coupled with wear free operation.
Purchase your Nord Helical Bevel Gear Drives today!