CALL NOW ! 800-985-6929
Email: charles@automatedpt.com
Click on the links below to see Drawings and Specs: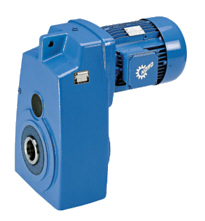 Features:
Robust UNICASE cast iron housing
High quality helical gearing up to AGMA Class 13
High performance inverter/vector duty motors and brakemotors
Modular design for optimal application solutions
Optional screw conveyor package utilizing CEMA standards
Protective features for severe duty and washdown environments
Oil-safe QUADRALIP seal system
AUTOVENT breather regulates internal pressure and keeps contaminants out
Stainless steel (316) protective paint coating – USDA/HI compliant
NORD MOTORS, INNOVATION
UNICASE™ design principle. All speed reducer housings are constructed of a rigid, one-piece cast iron that resists deflection under the heaviest loading conditions. All bearings and seal seats are contained within the single casting, eliminating splits or bolt-on carriers that can weaken the housing or allow oil leakage.
NORD's oil-safe QUADRALIP™ sealing system implements techniques that assure the lubricating oil stays inside the speed reducer, while contaminants, such as dirt and moisture, stay out. It features three seal lips, plus a grease-filled chamber and garter springs to ensure secure sealing at the shaft surfaces.
The AUTOVENT™ breather controls the pressure inside the gear case during operation by regulating airflow. Also, the AUTOVENT™ breather prevents bearing damage by impeding entry of foreign material (water, dust, corrosives, etc.) to preserve the cleanliness of the atmosphere, and oil, inside the gear case.
All NORD speed reducers and motors feature high performance Stainless Steel Protective Paint – a durable resin pigmented with stainless steel for extra corrosion resistance and durability. The internal housing is coated with a quick-drying, one-pack synthetic primer that locks in
any residual casting sand and seals any imperfections.
HIGH EFFICIENCY
The NORD SCP design is extremely effective due to the direct coupled gearmotor or NEMA C-face input design. Belted input systems have significantly lower total drive performance. You can further increase the overall efficiency by applying the NORD "H" line of energy efficient motors.
Purchase your Nord Clincher Shaft Mount Gear Drives today!